COMMENTARY

Madrasah in Action
DepEd's Madrasah Program at
Geronimo Santiago Elementary School
by Leif Andrew Garinto
We, as a country, have long been plagued by a sense of divisiveness among ourselves. As Teodoro Agoncillo, the eminent historian, once noted, a natural quality among us Filipinos is that we are defined not by our nationality, but by the region we came from. While in our own country, rarely do we hear people define themselves as Filipino—people usually end up specifying what province they came from.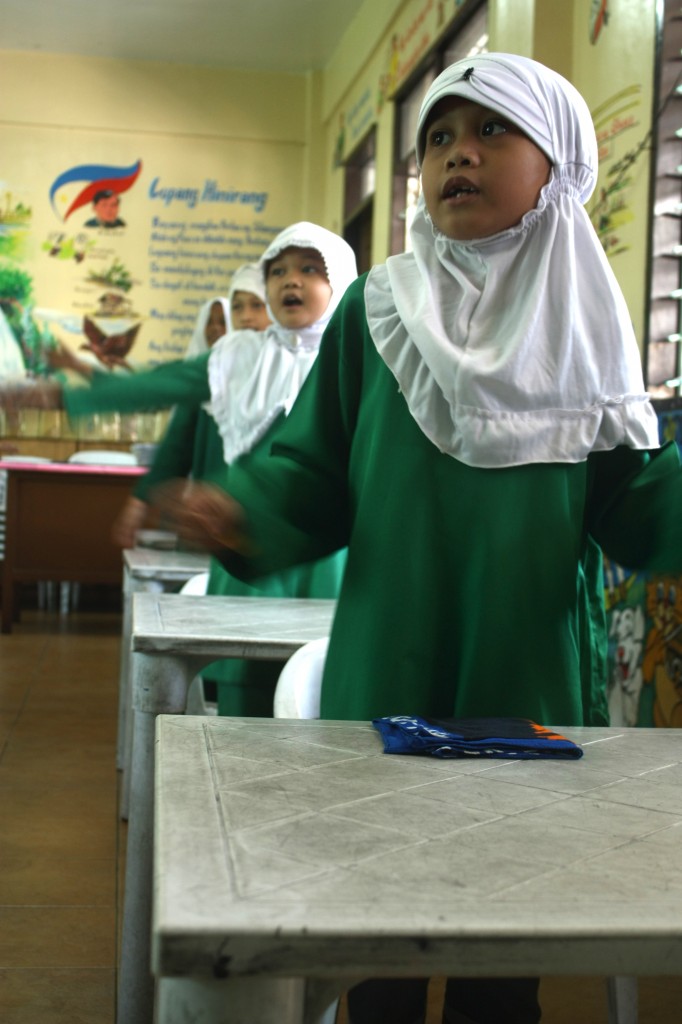 How many times have we defined our countrymen as Ilocano, Waray, Kapampangan and the like? Sure, identifying with one's regional group can be a good thing, but this too has reared its ugly head by transcending from simple mindless jokes and stereotypes regarding a certain ethnic group to a more perilous sense of divisiveness that affects our relationship with one another.
We, first and foremost, belong to a single nation and thus must have a single nationality and identity—Filipino.
In the case of our Muslim brothers, it is not so much the region but the religion. Those unfamiliar with the religion of Islam have come to associate our Muslim brothers with various unpleasant suppositions regarding their culture and beliefs, which resulted into a rather complicated relationship, something that has been going on for centuries.
As such, five years ago, in order to alleviate this sense of divisiveness and foster unity among our countrymen, the Madrasah Education Program was launched. As a part of President Gloria Macapagal-Arroyo's priority program for Mindanao, the Department of Education launched Madrasah Education to address the need for quality basic education for Filipino Muslims.
The Basics of Madrasah
Through the auspices of the Department of Education, especially Undersecretary for Muslim Affairs Manaros Boransing, Madrasah Education in the Philippines has been gradually institutionalized over the years.
Beginning with the issuance of DepEd Order No. 51 on August 28, 2004, signed by then DepEd Secretary Edilberto de Jesus, DepEd prescribed the standard curriculum for elementary public schools and private madaris (plural form of madrasah), signaling the beginning of the implementation of the Madrasah program in the country.
Boransing defines madrasah, the Arabic term for 'school', as Muslim schools giving emphasis on Islamic studies and literacy in the Arabic language. Before the implementation of DepEd Order 51, Philippine madaris were mostly privately-operated, relying mainly on support from foreign donors and non-governmental organizations. Having existed since the arrival of the first Arab missionaries in the southern Philippines during the 13th century, the madaris are considered the single-most important factor in the preservation of Islamic faith and culture in the country.
But aside from the traditional madaris that focus mainly on religious instruction, the Madrasah program has also been implemented into regular schools through DepEd Order 51. This mandates all madrasah institutions in the country to adopt and implement a DepEd-prescribed curriculum and obtain government recognition and accreditation.
It further requires public schools to implement the Madrasah program for Muslim students in areas throughout the country where there is a substantial Muslim population, offering Arabic language and Islamic values lessons as part of their enriched curriculum.
"With this curriculum, the Muslim will continue to learn their religion and that Islam is a religion of peace," Boransing explains. "We are making the educational system Islamic-friendly."
In order to differentiate between the private madaris and the regular public schools implementing the Madrasah Program, DepEd has taken to using the term ALIVE to describe the latter.
ALIVE, or the Arabic Language and Islamic Values Education program, succinctly captures the essence of the Madrasah Program itself—a school providing not only basic education to Muslim students, but also emphasis on Islamic studies and learning the Arabic language. Launched concurrently with the issuance of DepEd Order 51, the ALIVE program in public schools was piloted on August 27, 2005 in a handful of schools in the National Capital Region, one of which is Geronimo Santiago Elementary School.
Early Beginnings
Situated in the San Miguel suburb of Manila, Geronimo Santiago Elementary School (GSES) was your typical public school—in the sense that it offered the same classes as the other public schools in the country—before it was selected alongside 12 other schools in the capital to pilot the new ALIVE program. Dr. Victoria Mayo, who spearheaded the implementation of the ALIVE program in NCR schools, noted that GSES was chosen because of the large Muslim population in the area. Indeed, before ALIVE was implemented at GSES, there were already a lot of private madaris situated in the area. "Isa na ring factor ang location. Madami din kasing Muslims dito, kaya the Department thought to include Geronimo Santiago in the pilot schools for the ALIVE program," she says.
The introduction of ALIVE initially drew a lukewarm reception from the private madaris and the various Muslim tribes living near the school. According to then GSES Principal Dr. Jesusa Caraig, "Acceptance talaga ang naging issue when we first started. Especially sa private schools, talagang ayaw nila, kasi [the ALIVE program] will be given free, unlike sa kanila na may payment involved. Yun talaga ang major difficulty noon."
However, through to the intervention of both Boransing and Mayo, who took the time to talk to the private madaris and the leaders of the Muslim tribes in the area, the initial lukewarm response was later replaced by a wholehearted welcome. "Sila talaga yung nagpaliwanag," Caraig said. "Ipinaliwanag nila na we are not going to get their clients. Yung mga naka-enroll na sa private madrasah, hindi na concern ng ALIVE iyon. Ang concern namin ay yung mga bata na naka-enroll sa public school."
It took more than a year to convince the private madaris and the Muslim population in the area to get accustomed to the Madrasah program at GSES, but as Caraig notes, "Na-realize naman nila na, true to our words, hindi naman namin kinuha yung mga students sa private madrasah."
So despite the initial objection, the private madaris eventually had to give way to the ALIVE program at Geronimo Santiago, mainly because of how well the ALIVE program at GSES was being implemented—proven by the number of transferees from the private madaris to GSES.
"Ang main difference kasi sa private madaris tsaka dito, ay yung teaching methods. We really teach the teachers how to teach," Mayo elaborates.
"Kaya eventually, the private madaris became resigned to the fact na we're also doing a good job. Nowadays, adults na ang mga tinuturuan nila. Sa amin na nila ipinaubaya ang mga bata," she laughs.
Strengthening ALIVE in Public Schools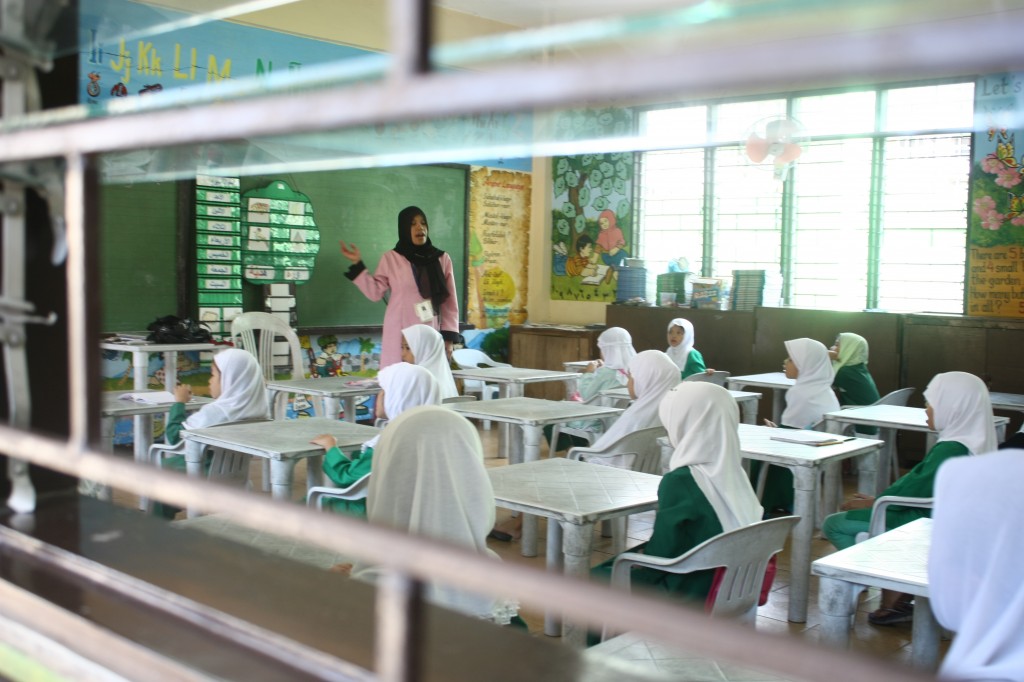 Another initial obstacle that Mayo, Caraig and others who spearheaded the ALIVE program at GSES had to overcome was the lack of qualified teachers or asatidz (Arabic word for "teachers"). In traditional madaris, either a graduate of the Madrasah program or an imam can be qualified to handle a class.
"Syempre, we're still a public school pa rin, so we need teachers who hold a bachelor's degree in Education to handle the classes. Right now, we're enrolling them in various universities in the capital that offer Education degrees, or certificate programs in education," Mayo explains. "Kaso, ang problem ay most of them are only high school graduates. Eh PLM (Pamantasan ng Lungsod ng Maynila) requires at least second-year college level ang na-reach ng applicant. Pero we're also trying to get in touch with other universities who would accommodate our asatidz."
Pursuant to DepEd Order 51, the standard curriculum for public schools with ALIVE consists of seven subjects, including the five regular subjects taught in most schools in the country, English, Filipino, Mathematics (hisab), Science and Technology (Oloom was Sihhat), and Makabayan (Ijtimaiyah)–which consists of Civics and Culture (tarikh), Muslim local culture and the history of Bangsamoro, Physical Education (Reyaadah), arts and music. Alongside these, Arabic Language and Islamic Values were added. As for the private schools, the five regular subjects and Arabic Language are also taught while the Quran, Seerah and Hadith (life, sayings and actions of Muhammad), and Aqeedah and Fiqh (Islamic laws and proper worship of Allah) are included in place of Islamic Values.
In order to facilitate and maximize learning among its students, the ALIVE program has 10 different levels—or, in usual jargon, grade levels. A student's grade level in the ALIVE program is not the same as his or her academic grade level.
Similar to a regular public school in the country, a student should pass every level in order to progress to the next. At the end of the program, the student is expected to speak, read and write Arabic, demonstrate knowledge of the various aspects of Islamic culture and the Muslim faith, and apply these to the betterment of himself, others and his country.
A Bright Future
Ten years ago, the idea of a standardized Madrasah curriculum in the country seemed impossible to implement. However, through the efforts of the Department of Education, especially the unwavering dedication of Undersecretary Boransing to get the program running, it is no wonder that Dr. Mayo and Dr. Caraig, and those who spearheaded the program at GSES can now truly say that they are reaping the fruits of their labor.
Mrs. Concepcion Vasquez, the current principal of GSES (taking over Dr. Caraig), can attest to this fact. Herself a staunch advocate of the ALIVE program, Vasquez notes that the work can be tiring, but seeing the results of their labor among their students and asatidz is enough to inspire her to carry on with her work with GSES.
"Mahirap sa una, dahil gigising ka ng maaga ng Saturday since may pasok ka pa for the ALIVE classes. Nabawasan na ako talaga ng araw sa bahay dahil nandito ako palagi," Vasquez says. GSES lacks classrooms so they hold the ALIVE classes on weekends.
"Pero it's become very beneficial din to me, kasi when you launch a unique program like the Madrasah of DepEd, you really get noticed, pwede kang ma-promote agad since you're handling a special program. Pero more than that, the mere fact na you're making a difference in these people's lives, na you're trying to break the proverbial wall between our culture and theirs para maging united tayo, I think it's really a rewarding job," she is quick to add.
Vasquez's words ring true to those who think that the ALIVE program can be a catalyst for the country's peace process. Education, after all, is always a potent tool to bridge differences and transcend boundaries.
Learning the Arabic language, in particular, is a very effective tool to break false notions regarding the Muslim people.
Carima Sharief, an ustad at GSES says, "Sana talaga maging institutionalized ang Madrasah program sa buong bansa. Malaking bagay kasi ito dahil para sa aming mga Muslim, magkakaroon ang mga bata ng pagkakataon na mapag-aralan ang Arabic, at maintindihan ang nakasulat sa Qu-ran, para na din maisabuhay nila ito."
Rifae Usman, an imam who is an ustad at GSES, agrees. "Ang Qu-ran kasi ay nakasulat sa Arabic. Karamihan, hindi ito maintindihan kasi hindi sila nakakabasa ng Arabic. Ngayon, marami nang mga kabataan ang nakakapagbasa ng Qu-ran, at naiintindihan na nila ito."
"Ang tinuturo lamang naman ng Qu-ran ay kapayapaan tungo sa kaunlaran. Pare-pareho naman nating hinahangad na mga Pilipino ito, lalo na sa aming lupang pinagmulan, na hanggang ngayon ay magulo pa din."
The same sentiment is shared by the students. As Johainah Rangaig, a student at GSES said, "Gusto talaga naming na tuloy-tuloy na itong [ALIVE]. Natututo kasi kami ng Arabic, pati na ng kultura namin."
When asked whether they find the program to be a hindrance to their regular education, the students spiritly shook their heads. "Hindi po, kasi mas maganda po na nag-aaral kami dito, sa halip na tumambay lamang kung saan-saan," student Saliha Abolais answers.
Indeed, as Vasquez notes, the students enrolled at the ALIVE program excelled in co-curricular and extra-curricular activities compared to those who were not. "Malaki talaga ang difference," she says.
The ALIVE Program has a very bright future ahead of it. More than giving our Muslim brothers and sisters the right to education, the ALIVE program can be the very solution, if not a huge factor towards achieving the peace that we all have been hoping for in our country. By giving Filipino Muslims quality education that caters to their culture and religion, the Madrasah Program can contribute greatly to finally breaking down the walls that have long divided our country. We are, after all, regardless of culture or religion, all Filipinos.
---