FEATURE

Teach This Way!
Thespian and tour guide Carlos Celdran
shows us the value of acting to teaching
by Anne Stephanie Nilo
It is 15 minutes to nine in the morning, and I am sitting on the steps of the Manila Cathedral. Not to hear mass, but to hear something else—the story of The Walled City, to be told from a light perspective that runs in stark contrast to the dense facts that scholarly textbooks preach as gospel truth.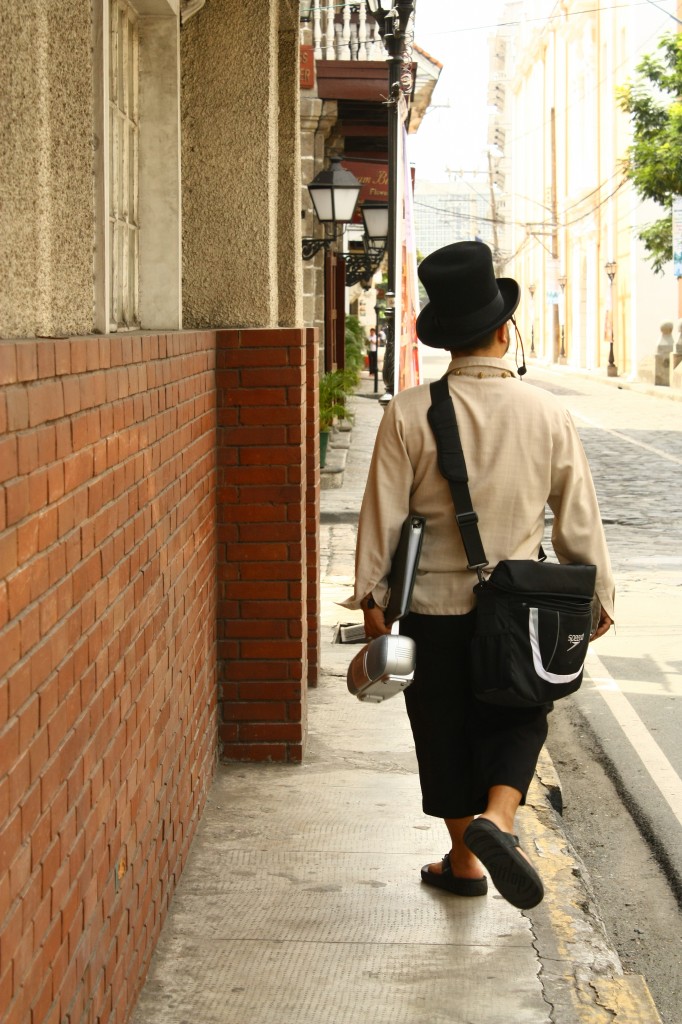 With the summer heat rising to 38 degrees Celsius, joining a three-hour outdoor walking tour might be the farthest thing from one's mind. But on this sunny, Sunday morning, a good mix of Filipinos and foreigners—myself included—were eagerly waiting at Fort Santiago for the eccentric, Ilustrado-looking tour guide donning a black top hat, Barong Tagalog, black cropped pants and rubber sandals. Completing his wacky ensemble—a black messenger bag, a portable public address system with a headset microphone a la Madonna and a small cassette recorder.
We were all waiting for Carlos Celdran.
And we were all looking forward to being a part of his very popular Walk This Way! tour that will take us back in time via a decidedly different route. Celdran's way is paved with trivia that are unmentioned in conventional history books, and mundane but colorful facts that make Philippine history interesting enough for almost anyone, of any age, from all walks of life. Don't expect him to tell a story of dates, places and names that Filipinos and foreigners alike will not bother to remember. Chances are, they will not even remember that a Spaniard named Miguel Lopez de Legazpi arrived in the Walled City in 1571—who among us really do?
He did not start with Legazpi's arrival in Las Islas Filipinas, nor with the Portuguese Ferdinand Magellan's supposed "discovery" of the Philippine Islands, which he had mistaken for the spice-rich Moluccas. With the help of his trusted sidekick, a portable cassette player, Celdran started the tour by asking us participants to sing the Philippine National Anthem, Lupang Hinirang. It was quite an unexpected way to start a tour.
With a confident swagger, rapid-fire delivery and sonorous voice that belied a transparent, open and welcoming attitude, he threw his first question to the audience, "What's Lupang Hinirang in English?" Clearly, the audience was going to very much be a part of this tour. Celdran was just getting warmed up. Every Filipino in the group—who supposedly knows his civics—was caught unawares and started groping for an answer. The scene was powerful enough to drive home the realization that we Filipinos who joined this tour sorely needed to revisit our past and get to know ourselves better.
Celdran as Artist
One thing is clear for Carlos Celdran: he is an artist, and in his tours one can see a person brimming with passion not only for Philippine history, but also for acting and the stage. For him, there is no medium more powerful than the theater in conveying the lessons of history. Only, Celdran's theatrics—and, indeed, some of his controversial-to-the-average-person postulates—can get the attention of churchgoers and the bystanders of the streets of Intramuros. But then again, his methods and his style were really designed to grab attention.
"I freak out when I hear 'Carlos is a historian, Carlos is a tour guide, Carlos is a teacher.' I am not any of those. I just happen to be a performance artist who chooses Philippine history as the topic for my comedy. History wasn't my favorite subject. Theater was," shares Celdran, who studied at the UP College of Fine Arts and the Rhode Island School of Design in the United States.
His passion for the performing and visual arts dates back to 1986, when, as a cartoonist and illustrator, he became the youngest member of the Samahang Kartunista ng Pilipinas, working for various publications and dailies such as The Manila Chronicle and Business Day.
"My first real job ever" is how he describes his job as a cartoonist. He worked as contributor to the highly esteemed Nonoy Marcelo—who is known for the comic series Ikabod—and did illustrations for another comic series, Pytyk.
He even ventured into business with a sister and started Island Spice, a clothing store that has everything Filipino—from shirts with covers of Liwayway Magazine to Filipino music to funky ethnic accessories.
Celdran also worked as a studio assistant to some of the biggest names in the Baguio Arts Guild, including Ann Wizer, Santiago Bose, and National Artist Ben Cabrera (BenCab).
His other forays into the world of art also included a stint at Repertory Philippines, where he started working as a poster designer and then as an intern in charge of technical direction.
No wonder he finds art everywhere—even in the grimy streets of Manila where the five senses are constantly assaulted, the Manila that some Filipinos and not a few foreigners find appalling. For Celdran—who started working as a tour guide in 2003 and now manages a ragtag theater group called Walang Pamagat Productions—Manila is one big stage where he can hone his acting skills, and a place whose history forms one, long theatrical play that has become host to some very notable Spanish, American, Japanese and Filipino characters.
Same Old Story—But Not Quite
After the unusual manner with which he started the tour, Celdran shifted to a narrative that ran in regular fashion: he started with Miguel Lopez De Legazpi and ended the country's history with Martial Law and an introspective look at the Filipino of today. Not that he needed to rearrange the story—it was interesting enough. All he had to do to make the story more appealing to tourists of all ages was to use a clear book filled with colored pictures and play some background music—sounds that were reminiscent of the periods that divide our long history into chapters.
It was easy for Celdran to sell Philippine history to the foreigners. The bigger challenge for him then was how to repackage Philippine history to the average Filipino who has probably read and heard it a hundred times in school.
And the answer to this challenge? Acting.
"If you look at it, it's a show—the thing I use for my backdrop is Intramuros—this script I use could be anywhere in the stage, everything can disappear in Intramuros but you can still get the story from the script. Some come to my tours to learn theater. The visuals help a lot. The costume, the suspension of disbelief…a teacher is an actor. If you don't engage your students in a way that an actor engages his audience, you're dead. You might as well forget being in front of an audience. Everyday your students become your audience," he tells us.
Celdran may have mentioned the same facts retold a million times by teachers in both public and private schools. But no teacher of history or Araling Panlipunan will start with a discussion on the seal of the Philippine Islands during the Spanish era by comparing it with the seal of San Miguel Beer (Amazingly, the two are actually identical!). Or admit that the Lupang Hinirang bears the same cadence as the French national anthem, La Marseillaise. For some teachers, appreciating this country's history is serious business, and this means glossing over Philippine history's more colorful, often hilarious, side.
Humor in History
The mere mention of San Miguel Beer made the audience laugh, and it's a good sign that the audience is enjoying and complying with Celdran's only rule in the tour—Have a sense of humor.
This is indeed a deviation from the usual classroom rules we were all accustomed to—No talking with your seatmate. No rowdy behavior. Stay in your seat. In the usual classroom set-up, stiffness is rewarded and laughter is frowned upon.
Not so with Celdran, who considers humor the greatest contribution of the audience to this tour-cum-history class. Laughter is the best reward for him, since it allows him to teach history effectively to an average of 30 tourists, six times a week. And using comedy—inserting as many jokes and funny anecdotes as he can—is one of the best ways to keep the audience engaged in his lively, interactive tour guide.
Can anything be more attention-grabbing than the anecdote on the World War II American General Douglas McArthur and the historical Leyte Landing, which had to be staged thrice so they could get the right photo for LIFE Magazine? That's one funny story students will never find in history books, and one of the funny tales that really kept the audience hooked.
"If you have noticed…Fidel Ramos does it, and a lot more…they always start their speeches with a joke. When you start with a joke, people are expecting another joke to come along. And when that joke does not come along, too late, they are not anymore listening to you," Celdran reveals.
Many a student of Philippine history have known it to be one long boring list of events, names and places that should be crammed into memory, all of which will then be forgotten immediately after the final exams. Celdran, however, holds what we may consider to be an antiestablishment view of history one that is composed of a series of colorful facts and interesting stories. And it is fast becoming popular with the denizens of Manila.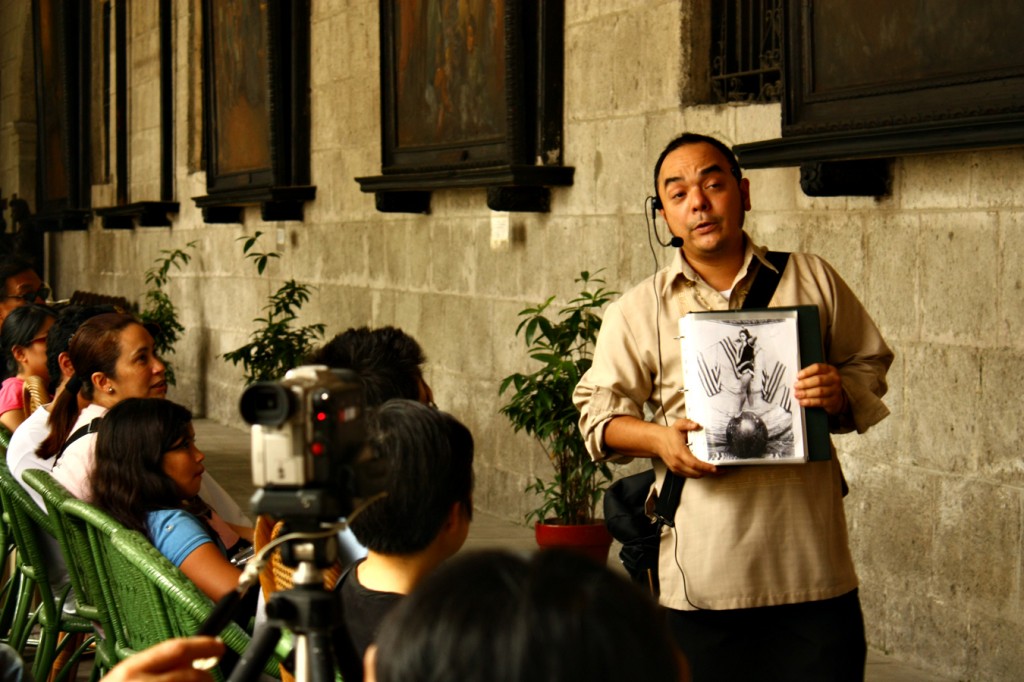 Apart from his Intramuros tours, tourists can choose to join his other walking tours in the Binondo and Quiapo areas (Downtown Express! Tour), and in the Cultural Center Complex (Living La Vida Imelda! Tour). He also offers an overnight tour of the historic island of Corregidor (Rock Out! Tour).
Not all, however, are amused with Celdran's brand of humor, and he is aware of it. He knows that offending sensibilities is part of the game, and feels the resistance whenever he presents a different take on Philippine history.
"Just last week I had some priests walk out of my tour…after I said the word 'tolerant' they couldn't tolerate it anymore and just walked out…right after I mention the words 'Catholic Taliban,' I just saw the expression in this guy's face…I have had many Filipino priests in my tour, and a lot of them will agree with what I said."
And what do the traditional tour guides say about him?
"A lot of them hated me…a tour guide who is not even approved by the Department of Tourism."
The Many Sides of the Same Story
"One thing about my tour is that is it a very personal view of Philippine history. Never footnote me," says Celdran who never dreamt of unseating mainstream historians such as Gregorio Zaide and Teodoro Agoncillo. He never sought validation from the academe, either. He does this job six days a week only for fun—or for art's sake—and, in a way, as an expression of his pride in being Filipino.
Celdran's purpose is clear: "I want to rouse people's interest in Philippine history—but I don't want to be the source of facts…I don't want to be part of the school curriculum."
And he understands all too well that Philippine history can be seen from different perspectives, and that the facts we have come to accept as "historically accurate" may not be that accurate after all.
"It also depends upon the way you look at it. Some people could say that the Japanese are benevolent." At the end of the day, learning history—be it of the Philippines or someplace else—can prove to be a highly subjective experience. After all, one's perceptions are shaped by one's environment and circumstance.
"One thing about history and the way that you teach it is that it should never be cut and dried. If you're going to study World War II, for example, you have to study the Jewish side as much as you have to study the Nazi side. I am not saying that one side is better than the other, but to create the entire picture, you have to study both. And then you come up with your own opinions," Celdran points out.
Despite the outrage caused by too much "colonial influence" as partly evidenced by the proliferation of McDonald's and Starbucks in various parts of the country, Celdran admits that the Americans brought many firsts to this country—the first telephone company, the first tram system, the first airline company, the first car. With the introduction of technology, Manila emerged as the trading hub between the East and the West and the Philippines became known as the "Pearl of the Orient". The glorious city of Manila—thanks to the Americans—therefore became one of the prime capitals of the world (before it was reduced to rubble during World War II).
His tour also illustrates the conflicting sides of the same story, but it's all about balance and looking at the totality of the story: "If you look at my tour, a lot of it is contradictory. I tear down the Catholic Church and at the same time I feel sad about losing the churches. I like Americans for the toothpaste and I get mad for them getting us into trouble. There is no one way to have history. You have to understand the whole picture."
Despite the confusing story that is Philippine history, there is so much fun in teaching and learning about it. Celdran brings out the fun in learning history that tourists forget the scorching heat of the sun. Never mind skin darkening and the three hour walk—these little sacrifices are worth making for someone who is yearning to experience an out-of-the-box trip down memory lane.
Taking Pride in Being Filipino
Perhaps, there is nothing else that best describes the Filipino than the immortal halo-halo. And there's no better way to make foreigners understand what this popular Filipino dessert is all about than by letting them have a taste of it. Towards the end of the tour, Celdran asked everybody to try that delectable mix of shaved ice, milk, candied fruits and sweet beans.
The Spanish, American, Chinese and Japanese influences make halo-halo the perfect metaphor for the Filipino, who is in a seemingly constant state of identity crisis. But being confused about one's past isn't so bad—Celdran teaches that confusion is an option, that Filipinos can choose to remain confused…or marvel at the melting pot of such diverse cultural influences that is Manila.
But this is not to idealize Manila and the Filipino. In a down-to-earth manner, Celdran admits that without the artifacts former first lady Imelda Marcos bought (some would say forcibly) from Manila's old rich, Intramuros would be bare, unglamorous, un-Imeldific. He likened Intramuros to that other ubiquitous Pinoy symbol—the colorful jeepney—which, when its buntings are removed, will just be a plain, gray public utility vehicle.
Ultimately, guiding the tourists in the streets of Intramuros is Celdran's way of changing the prevalent mindset about Philippine history.
"What I'm trying to do is to give you a new way of looking at Philippine history. All I want to do is to get Filipinos more interested in their history."
By integrating the techniques of theater in teaching Philippine history, tourists get to view an entirely different picture of the Philippines—and of its capital city.
More than being an eyesore, the bustling city of Manila can be a spectacle if you go to the right places and be guided by someone as spirited as Celdran. While it continues to be known for its traffic jams and pickpockets and the beggars living in its slums—facts of city life that, unfortunately, cannot be eradicated overnight—Manila is a place dying to be discovered.
After three hours of history and humor, Celdran imparted to us our ultimate lesson for the day: "If you can't change the way Manila looks, then change the way you look at Manila."
And for our teachers, knowing that while we cannot change what's written in our textbooks, with a little creativity, you can change the way you teach Philippine History—or any other subject—so that your students will have more fun and so that they can learn more.
Photos by Educator Magazine
---