TEACHER TRAINING

Preparing to Take the Helm
Promoting instructional and
transformational leadership in school
by Ma. Regina S. Sibal
As learning and teaching theories evolve, so do principles of school leadership and management. In this process, the importance of leadership and school relationships is acknowledged as key to a school's success.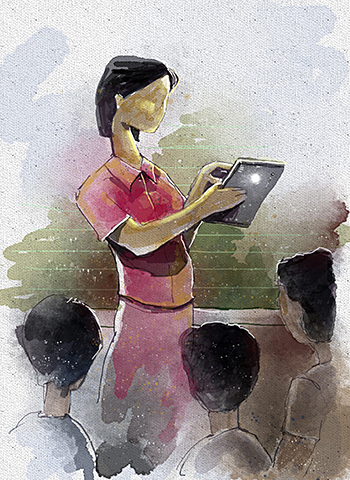 In the 1980s, the role of principals as a leader was seen as crucial in the effectiveness of the school program and formation of an appropriate culture and learning climate. Thus, the Instructional Leadership concept was born out of the desire to identify qualities of an effective school. This idea of leadership centers on the need of school leaders to provide the vision and direction for the school. Principals and school heads must not only be concerned with the administrative functions of the school, but must see themselves as leaders—leaders who don't just dictate what needs to be done, but also involve their faculty and staff to achieve the school's academic and operational success.
Today, as educators realize that the setting and follow through of goals and standards through a more top-down approach have proven insufficient, the psychological principle of transactional and transformational leadership is now being recognized in the school setup. This concept of leadership, introduced by James MacGregor Burns in 1978, emphasizes the importance of leaders to inspire, motivate, encourage and employ the capabilities of their teachers to serve goals. This reiterates the need for principals and administrators to provide opportunities for everyone in the school, and to develop and utilize each member for the school's progress.
As our schools move from traditional approaches to progressivism and liberalism in instruction, they also radicalize the concept of school leadership and management—it now becomes a shared responsibility, and school leaders can best achieve goals and targets by rallying their educational team: the teachers.
The combined framework of the educational concept of instructional leadership and the psychological model of transformational leadership has indeed changed the perspective of teachers and administrators. But the greater test for schools is to go beyond this as a concept and make it a way of life, as the "reward" for redirecting vision towards instructional and transformational leadership equates to a more synergized and participatory tactic towards school-wide change and performance.
Setting the Sail: Lessons for Principals and Administrators
It is not enough that administrators manage the day-to-day operations of schools. As they prepare for sustainability and excellence, true leaders must have foresight and vision, should they aspire to transform and lead their schools into the leadership challenges.
School directors, principals, and administrators have the duty to prepare the ground for a more decentralized leadership framework, which can be accomplished by doing the following—
IDENTIFY AND INVEST IN POTENTIAL LEADERS. We have all seen excellent teachers who end up being poor supervisors and administrators. Teaching competence does not automatically equate to leadership capability. It is crucial to find out which teachers have organizational and management skills, and can influence others. Once these people have been identified, it is best to provide them opportunities to develop their skills, like sending them to leadership and management trainings and workshops.
INFLUENCE AND INSPIRE OTHERS TO ACCEPT CHANGES AND CHALLENGES. Change is never easy. Preparing people for changes allows them to be open to accepting new leaders, and being leaders themselves. In the same way, do not make people feel that they are indispensable. Delegation and committee leaderships provide opportunities for people to be more open to roles other than that of being a classroom teacher.
INSIST ON A CULTURE OF EXCELLENCE. Principals and administrators must establish and consistently uphold a culture of excellence. It is crucial not to compromise the quality of instruction and work ethic. If you look closely at schools like UP, Ateneo, UST, La Salle, Miriam and Assumption, the reason why they are generally considered to have strong leadership, quality faculty and programs, is that they do not lower their respective benchmarks for excellence. So do not settle for "good enough" because if you do, your people will not strive "hard enough."
IMPART LEARNING THROUGH FACULTY INVOLVEMENT. Similar to Maria Montessori's paradigm of discovery and experiential learning for young learners, providing opportunities for teachers to get involved allows them to learn leadership through practice. Faculty membership and leadership in ad hoc and standing committees can further develop their planning and decision-making skills, as well as their ability to work as part of a team. Present opportunities that allow the sharing of ideas through consultation sessions.
IMPROVE SYSTEMS AND POLICIES. Policies and systems are only as good as when they are applicable. Administrators must confront the need to change systems and policies—in relation to the changing demands of the times—despite the fact that it challenges their teachers' comfort zones. The ability to initiate change and rally people is a leadership skill that also develops openness and flexibility in the school.
Being on Board: Leadership Opportunities for Teachers
Teachers, by virtue of their profession, wear different hats—that of parents, counselors, artists, among others. But one role that they often overlook is that of being a "leader" in the school setting. Most often, teachers chose to shine and concentrate their time and effort in the practice of instruction inside the classrooms, so much so that they fail to realize that inside the school, there are opportunities to hone their potential as leaders.
In order to be active participants in the establishment of a school leadership culture, teachers must step up to the challenge. The following tips can help them be at the forefront of change—
EARN RESPECT BY BEING AN EXAMPLE. In real life, age and years of experience may not be enough for you to earn the license to lead, or be seen as a leader. The simplest way to reflect potential is to prove that you have the skills and the abilities to lead and manage. As American author Henry Miller once said: "Example moves the world more than doctrine." When one models creditable behavior and teaching competence, one easily earns the respect and following of others.
EDUCATE AND EMPOWER OTHERS THROUGH COACHING AND MENTORING. Anne Sullivan's incessant mentoring resulted in a competent and empowered Helen Keller. Similarly, mentoring others on lesson preparation and planning, as well as giving tips on practicable teaching strategies and methods, help teachers gain confidence and develop their own expertise. Providing each other guidance strengthens the support system within and among teachers. Well-coached and mentored faculty are those who turn out more equipped and willing to handle challenges and leadership positions later on.
EXCHANGE IDEAS WITH OTHERS. An old Latin proverb says, "By learning you will teach, by teaching you will learn." No amount of experience or years in service can guarantee you enough to say that you have all the competencies of a leader and teacher. Even new faculty, for instance, may have some practical thoughts to share on emerging technologies and theories. And by sharing viewpoints, the school community expands its understanding and appreciation of perspectives. In the same manner, sharing one's learning and best practices helps improve quality of instruction on top of strengthened camaraderie and collegial respect. Take it from the great philosopher (and teacher) Socrates—dialogues and discussions help.
ENGAGE IN SCHOOL ACTIVITIES. LEARNING IS A CONTINUING PROCESS. It is quite common for teachers to find reasons to turn down school tasks. Seasoned teachers say, "Been there, done that," while new faculty members proclaim, "I have no idea." By not participating, they lose learning opportunities. Remember, learning is a continuing process. Active participation in the planning, preparation and implementation of school programs and activities offers an excellent chance to hone organizational and management skills.
EXPLORE OPPORTUNITIES FOR GROWTH AND SPEARHEADING CHANGES. Teachers must keep themselves abreast with new technologies and theories in instruction, and if needed, find further opportunities to participate inside and outside of the school setting. It is imperative that they be open to relearning, unlearning and learning anew. Similarly, teachers must also know how to take action when needed and not just wait for things to happen. Mollie Rogers, otherwise known as Sister Mother Mary Joseph, believed that it was not enough to be involved, but to be at the forefront of change. Her proactivity and responsiveness led to the founding of the Maryknoll sisters and its schools.
EVALUATE ONE'S PROGRESS. One needs to evaluate and reflect on one's progress as a teacher, a leader and an individual. By developing the capacity to do self-assessment, one can identify how to further enhance one's strengths and weaknesses, and how to work on areas that may still be developed. Teachers must take a stand to lead in their own way. In the end, it is not about positions or tasks or responsibilities given. It is a test on what they choose to make of themselves—whether as leaders or as followers. It is time teachers take an active role in teaching not just their students, but each other as well. School leadership is everyone's business. School administrators must make sure that if and when the opportunities for teachers to assume leadership positions come, they are ready. Honing their leadership qualities and providing leadership opportunities can only serve to enhance the school's culture of excellence. Likewise, when teachers and the faculty are in the same management framework, the school community is assured of a sense of responsibility, communal accountability and leadership.
---